Have Your Audience Thanking You
For Bringing The Shawn Interactive
LIVE Experience to Them

SHawn's Keynote Experience
Hi, I'm Shawn Shepheard and I coach top-performing business owners.
These are my most requested keynote presentations:
Why Having Someone Outside the Pickle Jar Leads to New Thinking, Opportunities, and Profits!

"In the beginner's mind there are many possibilities, in the expert's mind there are few.
– Shunryu Suzuki
Did you know the best advisor for your business could actually be someone who knows absolutely nothing about your industry?
Nothing. Nada. Zero. Zip. Zilch – not a damn thing.
Now, I'm not suggesting you engage just anyone off the street, but there is a definite strategic advantage in hiring a skilled business coach who is not an expert in your industry.
Why?
Because any business coach worth their salt is going to come with questions that will help you expand your vision of what's possible for your business.
Chances are, right now, your leadership team is much too close to the situation to clearly see all the opportunities, and solutions available to them.
The high performance coach, who knows nothing about your industry will assume nothing and will help you see what was previously "unseen" by your organization, helping you to forge the most strategic path ahead.
During this interactive presentation, you are going to be challenged to open your mind to new thinking so that you can immediately apply to stand out from the crowd.
All you need to do is check your ego and assumptions at the door.

THE STRATEGIC FOCUS ADVANTAGE
How to Play Like A Pro & Get to the Next Level, Without Being on 24/7/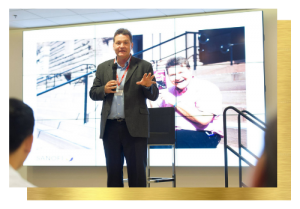 In the developing phase of a small business, momentum is gained often by a strong will to succeed, the discipline to work hard, and from learning from setbacks.
If you've come this far, congratulations!
But, understand this …
Busy-ness is a killer of greatness.
If you want to go further, you're going to need to adjust your mindset and habits.
To be the entrepreneur you're destined to be, you must develop habits that keep you focused
on achieving the next rung of success.
In my work with high-achieving entrepreneurs, I've observed
they're focused on these three things:
1. Doing what gets results
2. Playing to their own strengths
3. Taking action and reviewing their progress weekly
In this interactive keynote, I'm going to share with you the foundation of the work I do with my all-star clients.
But that's not all.
You will be asked to think critically about what you & your team is doing now – and what you need to be doing to take yourself and your business to the next level.
Think of it as a private coaching session with Shawn, just shared with friends. You will leave feeling inspired and ready to take immediate action!

Love Your Customer or Someone Else Will
What if adding new customers could be as simple as loving the ones you already have?

You know that a top priority is keeping your pipeline full of hot leads. Failure to do so typically results in cash flow problems that could hurt your business.
But marketing to keep your pipeline full can be expensive – especially if you're advertising to an audience who doesn't know who you are.
Since your existing customers already love you, why not leverage those relationships to acquire new business in the easiest way possible?
Look, growing your business is actually much easier than you think. Instead, all you need is a marketing and branding strategy that will bring your most ideal clients directly to you.
Hint: those potential clients are already within two degrees of separation. Let's bring them even
closer!
During this interactive presentation, you're going to learn a simple and easy system for monetizing the connections you already have so you can add more revenue to your bottom line. You'll learn the secrets to inspiring your existing clients to bring new business to you, as well as how to automate your client attraction process.
"Since I started working with Shawn I have been much more focused and intentional on doing the things that lead to faster and bigger results. He is intense (in a good way), likable, and keeps me laser focused on investing time doing the activities that I am great at. His strategic mindset has helped me create new opportunities. If you want to up level your game, look no further."

– Jay Culbert
Director Facilities Services Kaloutas Peabody, MA
Working with Shawn has been a gamechanger. He asks the right questions that make me dig deep and ensure I am laser-focused on what I want to achieve. I believe Shawn's coaching style is unique and differentiates him from the typical coach. I feel that he genuinely cares and pushes me to drive towards being my best self. He doesn't accept wimpy or vague answers and calls me out (in a great way) if I am sliding from what I said I would deliver. Our sessions are filled with laughter as Shawn is not only astute but has a great sense of humour. Whether you are an executive or entrepreneur, Shawn's coaching will accelerate your growth and success both professionally and personally.
– Mark Bloodworth
Lifeblood Performance | Melbourne, Australia
"Before working with Shawn I didn't have anyone to keep me focused and accountable on the growth of the business. I am much more focused now on working on the business, and not caught up in the day to day. He is genuine, diligent and has a great strategic mindset, working with Shawn has been game changing."

– Kevin Cassidy
Founder & President of Cassidy Paving Haverhill, MA
My work with Shawn has been life-changing. I asked for help with a business plan, but ended up selling one business and starting another that was more in line with my unique abilities. Focusing on things I'm passionate about (and good at) has made a tremendous difference in my business and my life. Shawn asks tough questions and gives tight deadlines for "homework" assignments, but doing the work pays off in ways you can't imagine – Shelby Kinnaird Author & Founder of Put on Your Apron Chesterfield, VA
"For several years the highlight of our annual conference has been Shawn Shepheard. The audience is laughing one moment, dabbing at a tear the next and all the while being challenged and inspired. He delights all ages and backgrounds and his message is universal. At a recent conference, an octogenarian said, "Shawn teaches me something new about life each time and I am so energized now!!!" And THAT is why we have him back each year.

– Casey Truffo
Be A Wealthy Therapist Orange County, California
"I had the privilege of hiring Shawn to coach my team here at LinkedIn and it was very successful. He received the highest NPS score of the year. Shawn offers a unique perspective and brings content to the table in a way that is both engaging and easy to replicate. I've also had the opportunity to work with Shawn outside of my current role and will continue to do so into the future"


– Perry Monaco
Customer Success Leader at Linkedin
"As the host of my signature event, Book Breakthrough New York City, Shawn was nothing short of amazing! His style is engaging, entertaining and inspiring – all of which made both our in-room attendees and simulcast audience feel special and right at home. If remarkable is the word you want people to use in describing your event, look no further than Shawn Shepheard."
– Elizabeth Marshal
co-founder of Book Breakthrough NYC
BOOK SHAWN FOR YOUR EVENT
Please complete the form below to check Shawn's availability. One of our team members will get back to you shortly to talk about next steps for booking Shawn for your event.
Turning a one-time presentation into a 21-day experience that creates lasting measurable results.