You Are Invited to An Invite Only Experience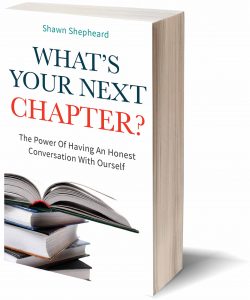 In celebration of the launch of my new book, "What's Your Next Chapter? – The Power of Having An Honest Conversation With Ourself", I am hosting an invite only group program that promises to move you into inspired action towards your goals.
Over the last few months I have often been asked, "when are you hosting another group program?" After hosting two masterminds groups last year, and a 30-day challenge with amazing results (check out the comments from participants)…I honesty needed a break — it's rewarding and exhausting at the same time.
So if this sounds like you…
Your career resume is impressive, filled with accomplishments that you are proud of. And yet, there is this unsettled part of you that yearns for something that is missing: More meaning, fulfillment, happiness, health, and time for what is truly important to you. You know you want more out of life, but you don't how to get started.
Or perhaps this sounds like you…
You feel inspired and ready to change after attending a workshop, keynote presentation or reading a book. Unfortunately, that feeling doesn't last long, and you return to the regularly scheduled programming of your life. You had good intentions, but limited results.
Moving from success to building your legacy can be overwhelming. The challenging part is how to get started.
That's where I come in. I help by asking the questions that you may be avoiding.
This group program is your chance to get unstuck and start writing the next chapter of your life. All progress starts with telling the truth.
---


Founder and CEO of Wealthy Thought Leader Andrea J. Lee praises Shawn's style and results.

Fantastic consultants and strategists like Shawn are hard to find. He is the kind who calls BS in a way that you can actually hear, and guess what? You take action as a result. Shawn is one of the very best connected people I know who adds value with every action he takes. He is profoundly creative, fun to be around, and gets things done. I've had the privilege of working with him, for him, and to be supported by him. In all of the roles he's played, he's been an MVP. The only problem with hiring Shawn or working with him is that you will be called out to be your best, individually, and, and on organizational level. If you can handle that, go for it!

—Andrea J Lee
Founder and CEO of Wealthy Thought Leader



"Shawn Shepheard is the perfect leader, coach and mentor. The reason is not because I attended his recent Toronto Mastermind workshop, which was brilliant. It is not because I have heard Shawn speak at various events and have seen his ability to own the stage and the audience with ease.

What makes Shawn a great leader is his ability to champion any person who has an idea, a business or a goal regardless of their industry or their background. It doesn't matter if your idea is small, humble, outrageous or larger than life, Shawn coaches everyone with the same enthusiasm and passion so that that person can achieve what they set out to do, and then some."

—Patrick McCann
Creative Director / Director / Executive Producer
---
So, what is this?
It's a program for highly successful people that are feeling a little stuck, frustrated or overwhelmed with all the opportunities around them. In short, you are looking for focus, clarity and direction in writing the next chapter of your life.
How long is this?
40 days.
What's included in the program?
A full day Kick-off event on May 8th in downtown Toronto
A Halftime Check-in (20 days into the program)
Online teaching, support, and coaching from Shawn
A Wrap-up event on day 40 (June 17) in downtown Toronto – where we celebrate your success and develop an action plan for moving forward.
---



"Shawn is an effective, action-oriented coach and Mastermind group leader. Shawn's style is no-nonsense and he fosters an environment of trust whether its one-on-one or in a group setting. He has helped me to refine my goals (often making them bigger) focus on what's important and push through challenges. My work with Shawn has had a substantial impact on my results."

—Dionne England
Founder at The Rockstar Program



I had the privilege of hiring Shawn to coach my team here at LinkedIn and it was very successful. He received the highest NPS score of the year. Shawn offers a unique perspective and brings content to the table in a way that is both engaging and easy to replicate. I've also had the opportunity to work with Shawn outside of my current role and will continue to do so into the future.

—Perry Monaco
Manager of Customer Success
Linkedin
---
What's expected of you?
100 % HONESTY. Be honest to yourself and the group (no hiding or excuses allowed)
ACTION. Active participation for the entire 40 days
ACCOUNTABILITY. This is not a one day, sit and listen presentation. (There will be weekly check-ins and support)
If we want different results, we need to do things differently.
How much is this?
If you are getting this invite, you are someone I highly respect and consider a friend.
The subject of money, charging friends, is an awkward one. So, here's the deal:
A payment of $99 by April 21 will secure your spot in the program. While I do think highly of you and believe you will get as much out of this program as you put in, I don't want to lose money hosting this 🙂
At the end of the 40 days, you determine the value of the program, and pay what you think it's worth . (Think of the basket being passed around at church – no need to for anyone to know what is in your envelope.)
There is one exception….
If your company is paying for this, I will provide you with an invoice for $1000 for the entire program, which is a great ROI for them.
---



I attended Shawn Shepheard's Mastermind session at a point when I was in the process of changing my business model. I thought it might help me with the change but I had no idea how much it would help. Shawn's coaching helps you to think about the very core of your issues, both professional and personal and to confront them and deal with them. The session was of immeasurable assistance.

—Robert Stevenson
President
Whitecrest Consulting