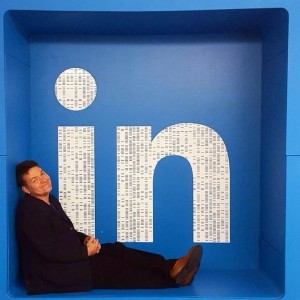 I couldn't be more excited to launch the "Talk Is Good — Action Is Better Mastermind", on September 29 from 2pm to 5pm and September 30 from 9am to 5pm, with hand-picked leaders from diverse industries. Everything from entrepreneurs, executives, sales leaders and much more.
Keep in Touch!
Leave your email to be the first to hear about upcoming events.
Basically, I'm inviting the smartest people I know to join.
You know me, I love bringing together my favorite thought leaders to tackle challenges together, give advice, share connections, and bounce around fresh ideas. Could it get any better?



"Shawn Shepheard is the perfect leader, coach and mentor. The reason is not because I attended his recent Toronto Mastermind workshop, which was brilliant. It is not because I have heard Shawn speak at various events and have seen his ability to own the stage and the audience with ease.

What makes Shawn a great leader is his ability to champion any person who has an idea, a business or a goal regardless of their industry or their background. It doesn't matter if your idea is small, humble, outrageous or larger than life, Shawn coaches everyone with the same enthusiasm and passion so that that person can achieve what they set out to do, and then some."

—Patrick McCann
Creative Director / Director / Executive Producer
The Benefits
Forbes Magazine says it can do wonders for your business. Best-selling business authors constantly tout its benefits.
It's called a mastermind. And if you've ever felt stuck at work, frustrated that problems don't get solved or needed business guidance, the answer lies right here.
Imagine a room of carefully selected, smart group of people who meet to tackle challenges that often feel like there's no solution.
Now think about who you spend time with when it comes to your job. How many of those people are in a completely different industry or field? Chances are it's not a lot. A mastermind is the all access pass to supportive peers from all walks of life. Get the insight, advice and the accountability you know you need.



"Joining Shawn's Mastermind was one of the best decisions I've made. He has provided incredible coaching and wisdom to me and the entire group of professionals. He has a unique way of challenging us and holding us accountable to pursuing the best for ourselves. Shawn is truly and inspiring leader."

—Edlyn Thompson
Allstate Canada
The Potential
Masterminds ooze potential it's trusted connections and business opportunities. It's the type of business planning that will have you feeling excited to start the day.
Here's another thing. Mastermind groups aren't just strictly for business. The type of skills and experience you'll have will set the stage for success in every aspect of your life.
"Being in a mastermind will truly give you a Master Mind! You can't help but think bigger and stretch beyond your boundaries when surrounded by amazing people doing amazing things."
I couldn't have said it better myself.
No easy task, eh?
And You will get results in just 30 days!



"Shawn is an effective, action-oriented coach and Mastermind group leader. Shawn's style is no-nonsense and he fosters an environment of trust whether its one-on-one or in a group setting. He has helped me to refine my goals (often making them bigger) focus on what's important and push through challenges. My work with Shawn has had a substantial impact on my results."

—Dionne England
Founder at The Rockstar Program
Ready?
If you are ready to play full out, and are 100% committed to getting results, then you are a perfect addition to this group.
What can you expect?
Awesome thought leaders from diverse industries
2.5 days of KICK BUTT in person training and masterminding
A Private Linkedin group to support you during the 30 days
Group accountability
Personal support from me, of course
Not only will you evolve in your role as a leader, but you'll also be able to help your team grow in their roles.



Shawn keeps you accountable. Every time I interact with him, I know I am going to need to answer the question of where I am at and explain how that is helping me get to where I need to go.

He has been an integral part of helping me launch my business. If you want someone who stands by your side while simultaneously pushing you to pursue your dreams, he is it.

—Jessica Young
JessicaY.com
Ready?
If you are ready to play full out, and are 100% committed to getting results, then you are a perfect addition to this group.
Also included: Shawn's Keynote
Talk Is Good, Doing Is Better
"Moving From Knowing to Doing"
We all know lots of things.
Some more than others.
We attend a great workshop.
Hear an inspiring speaker.
Read a brilliant book.
Nothing Changes…
We don't have a knowledge problem, we have a DOING problem.
That is why 94% of corporate training fails to produce results (okay I made up that number, but it's HIGH)
It is also why most of us don't apply new found knowledge, even if we are motivated to.
In this powerful presentation, Shawn will cut through the BS and excuses and show you a simple, proven process that will lead to
Lasting, Meaningful Results, whatever your goal is.
If you and your company are serious about Changing your Outcomes and Getting Results, this is for YOU.
What's the investment for being part of such a kick butt, invite only program????
Seriously, I can't make it any lower, and I promise that this will be the ONLY time the program will be priced so low….
$499 Canadian.
What else can you get for $499?
A 2 star vacation in rural Cuba?
One night hotel in NYC?
If you are looking for a getting BIG results, being the smartest person at work, make great connections and having fun……this is for you.



I attended Shawn Shepheard's Mastermind session at a point when I was in the process of changing my business model. I thought it might help me with the change but I had no idea how much it would help. Shawn's coaching helps you to think about the very core of your issues, both professional and personal and to confront them and deal with them. The session was of immeasurable assistance.

—Robert Stevenson
President
Whitecrest Consulting
Ready?
So here's the deal. If you are ready to play full out, and are 100% committed to getting results, then you are a perfect addition to this group.